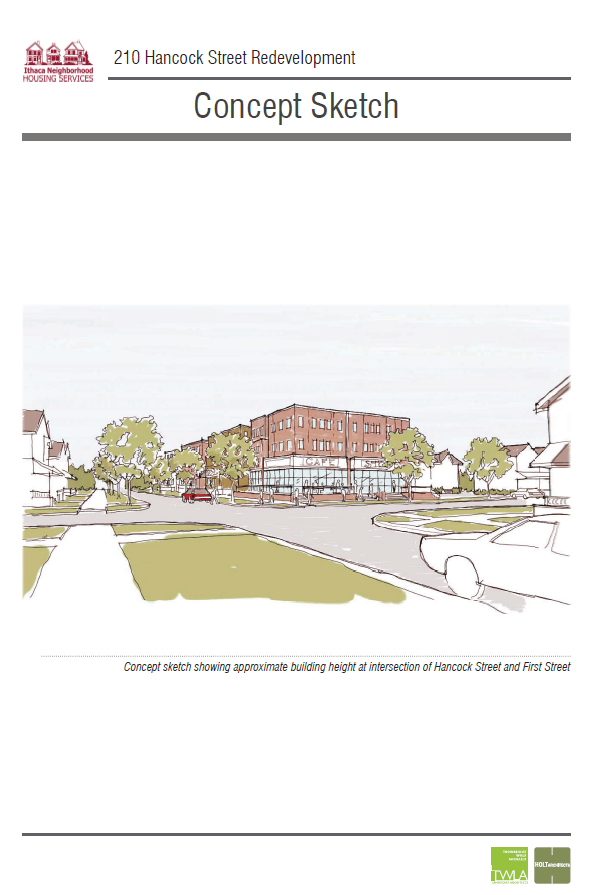 Moving steadily forward, INHS held its open house and discussion meeting number three Wednesday evening for the 210 Hancock/Neighborhood Pride site. Here's a quick run-down for those who would like to be in the know on the current plans:
1. Lake Avenue – per the advisement of neighbors, Lake Avenue will be no more than one-way traffic entering from Hancock Street, keeping vehicle volume low. A landscaped pedestrian walk will run next to Cascadilla Creek. The possibility is still being explored of closing Lake Avenue entirely. A playground is being considered for the portion of the site adjacent to Conley Park.
2. Site Layout – Lower-volume housing (townhomes) will be built closer to the creek. Commercial space would front Hancock, and perhaps a couple locations along First Street. Per neighbors' request, surface parking will be minimal.
4. Property Uses – Meeting attendees expressed significant demand for retail space, so the amount in the project has been increased from 4,000 sq ft to 8,000 sq ft, which would be in three separate spaces. The townhouses are two floors, and apartment buildings will have commercial space on the first floor, followed by 2-3 floors of apartments (so 3-4 floors total).
Ithaca Is Bluegrass Jan. 23-25
[fvplayer src="https://vimeo.com/116876141″ loop="true" mobile="https://vimeo.com/116876141″]
More specifically, there will be 12-13 townhouses,  2-3 bedrooms and 1,100 to 1,400 sq ft in size. These will be sold to low/moderate income buyers. The apartment buildings, rental only, will contain 50 units of housing – 28 1-bedroom units, 18 2-bedroom units, and 4 3-bedroom units. The total number of units is 63, and a little over 100 residents, assuming each bedroom is occupied by one person.
Now onto the two remaining plans. The courtyard scheme has been shelved, leaving the street scheme and the alley scheme. Both plans have the same number of housing units and commercial space.
The revised street scheme has one interconnected mixed-use building and clusters of town homes, separated by a north-south two-way through street. The 69 parking spaces on site are split between surface parking on the sides of the street, and ground-floor parking between the commercial spaces. Lake Avenue is a one-way road through the site. This proposal requests 32 off-site parking spaces (101 total).
Worth noting, this scheme bears some resemblance to the conceptual drawing previously shared by INHS.
In the revised alley scheme, two east-west dead ends separate most of the townhome clusters from a mixed-use building in the middle third of the property, and a second mixed use building alongside three townhomes on the southern third of the lot, facing Hancock Street. Lake Avenue does not go through the site in this scheme, the creek is paralleled by only a sidewalk.  Although this plan also has 69 parking spaces on site, it only asks for 21 off-site parking spaces (90 total). I think that, given the two plans, the question becomes, is it better to have a mixed-use building front a portion of the creek, or more parking off-site?
Let's leave this up to you, the readers: which do you prefer? INHS (being the Voice readers they are, we hope!) is listening, and is ready to take the more popular design and make it into a final concept, with building designs and all, at its community meeting onFebruary 11th. According to Ithaca Board of Public Works (BPW) documents, Once the plan is finalized, INHS intends to submit to the city planning board for review, and have all approvals in hand by October of this year. The project will then pause while INHS applies for affordable housing tax credits and arranges construction financing. Once those is in order, the project is expected to start construction in November 2016, with completion in November 2017.
---